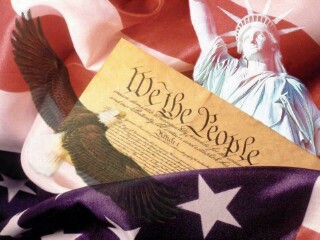 We are a strong nation. The picture above symbolizes all those things that make us great and those things that our soldiers have fought, wounded, and died for. Be proud you are an American! There is nothing to be ashamed of, you are one person in this great land and be honored that you have more freedom than anyone else in this world! I am glad we have and had people willing to give their lives defending everything this country stands.
Irqi War TributePaid the Ultimate Sacrifice
On May 2, 2004, tragedy struck Wapello Iowa with the death of a native son in Iraq. Petty Officer 2nd class Trace Dosset of a naval reserve Construction Baltation was killed along with four other seebees in a mortor attack in Ramadi. While I did not know Trace personally, from what I know of him, being a small town and all, he was the kind of guy who was willing to stand up and fight the fights worth fighting. The way I see his death is that he died defending the freedom all of us dearly love. Trace's death means that his wife and daughters will not have to worry about terrorists on their Florida streets, and they can sleep easier at night knowing that American troops are doing what they have to in order to make lives in Iraq better, and to continue our freedom here. Thanks for serving our country Trace!!! Your dedication to your family and country help us to remember that freedom carries a very high price tag. Some pay that price so others can enjoy the freedom that this country was built on. To Trace's family: Your son is a true American Hero!!!